Maybe you've already taken those long walks with God and have confirmed in your heart that He is directing you to share Jesus in another culture. Maybe there's even a specific place you know God wants you to go or a specific task He's directed your toward. Maybe you've already talked with your family and they are on board. Perhaps your good friends have already heard your story a million times and they are excited. But what's next? To be sent out, SOMEONE has to send you. So, you're thinking you should get your church involved somehow… but how on earth do you do that? If you're in this somewhat cynical culture of North America, how do you communicate the urgency and the merit of your particular call?
Find some people who are willing to commit to pray for you.
There are several ways you can do this. You could talk to your small group at church and ask that they pray for growth in your relationship with God in general and for your call to missions in particular. You could develop a texting group where you each share daily requests and updates via text. Talk to your pastor. Maybe ask for an hour of prayer one specific night. Your church family could all gather to pray OR pray where they are in that one specific hour. Finding praying people serves two very important purposes. People hear about and invest in the call God has given you AND you are lifted up to God in PRAYER. 'The prayer of a righteous person is powerful and effective.' (You may have read that statement somewhere before …James 5:16) Imagine the power and effectiveness in your life because of all of these praying people!
Don't miss your free copy of
The Ultimate Preparation Checklist for a Life in Missions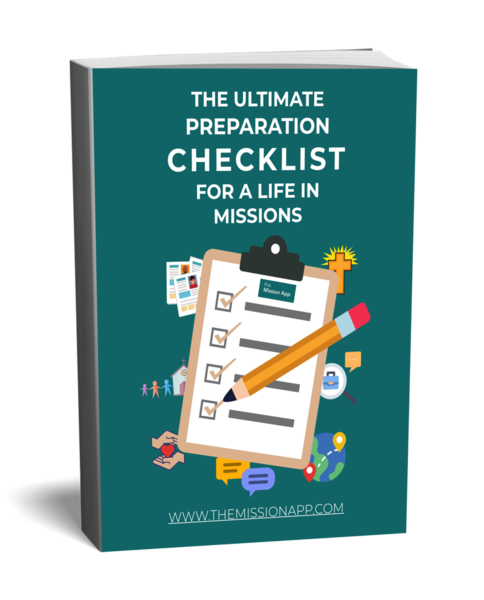 Ask someone to be your mentor.
Now this doesn't mean they need to sign a paper or anything. This is just you asking if someone godly you admire in your church would be willing to meet with you on a weekly or twice-monthly basis to chat about spiritual things. Here's some quick tips: 1) Ask someone of the same gender as you to avoid romantic entanglements. 2) Find someone who is a step ahead of you in the faith. 3) If someone has some history in missions, that can be an added bonus. 4) When you meet, there's no formal agenda. You could simply each share how you've seen God at work since you last met. Mostly – this is for accountability and making sure that you don't forget to develop the calling you have received.
Plan a Joshua Project night.
If you've never heard of Joshua Project – not to worry. Simply go online and look it up and see what you find out. In their own words, 'Joshua Project is a research initiative seeking to highlight the ethnic people groups of the world with the fewest followers of Christ.' You'll find lots of resources and ideas on their website. You could choose a few unreached people groups to highlight and put up information around your worship center about each of them. You could invite people to walk through and pray for each group. You could include the group you feel called to go to if you like. You could add food from each area just for fun. The ideas are endless. The main purpose is to remind your church of the urgency of sharing Jesus beyond their walls.
Adopt a people group.
If you have a specific people group in mind – don't be shy about bringing this group to the forefront of your church's mind. Ask for a 'missions' moment' on a weekend during announcements. Put a blurb in your church bulletin. Invite people to meet for a 'share the vision' night. Then talk about that group of people. Share about the current predominate religion there, the need for Jesus and any specific stories about conversations you have had with God about this people group. If you can let people know how they can be involved with reaching THIS specific people group, they may feel the urgency to SEND someone there to share Jesus. Saying specifically that YOU are longing to go is a great idea. Then give the church practical ways to be involved – including supporting you financially and with prayer.
Mark the moments.
When your church has seen the urgency, committed to pray for you, and expressed an interest in supporting you financially, I would say they are definitely involved – that's great! Now to decide what mission organization you might want to apply to. You'll need to decide what organization fits your calling best and what pre-requisite training and courses there may be. However… don't be daunted by this seemingly long list. We are happy to help if you like (themissionapp.com). Our goal is to help you get to that moment where your church calls you up to the front, prays over you and sends you out with their blessing so you can share Jesus with someone who hasn't heard.