Arriving Well
Tips for your beginnings in a new culture
Is this home now? Your footprints in the cement of your new host country haven't even had a chance to dry and the question pops into your mind, 'How do I do this WELL?' Everything is SO new, SO unfamiliar and SO important. Take a deep breath. God has brought you here and will walk with you. Here are a few practical tips to keep in mind:
Don't miss your free copy of
The Ultimate Preparation Checklist for a Life in Missions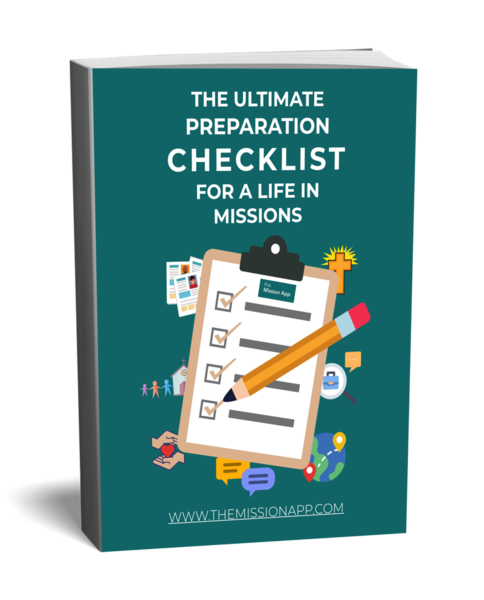 Relationships are key as you arrive to your new surroundings. So keep your relationship with the Lord fluid & fresh and He will make your path clear. As you feast on His presence, His life will overflow from you while you dive into your new life and community. Being genuinely interested, asking tons of questions and sharing time and simple resources with your neighbors will go a long way in building trust and friendships.
Communicate with family and supporters from your home country as needed, but don't spend all your time on the phone/computer. Be sure to make yourself available so your neighbors and community know you are there to serve and are interested in their lives.
Don't sweat the small stuff – keep the big picture in mind. You cannot possibly totally adapt in a few days or even weeks or months. Most often it takes years to really understand and learn another culture – to come alongside and live in someone else's shoes (or bare feet, as the case may be) but you will learn new things every day. Keep your heart, spirit, and mind open to see the similarities and differences around you, recognizing positives and using strengths and weaknesses to encourage yourself and those around you.
Do the practical things that will enable you to communicate and understand your neighbors and surroundings. Learn their heart language and about their culture, both formally and informally. We're all different so there is no right or wrong way to approach this but the important thing is to be available, show interest and caring. Classroom learning is great and helpful, though likely the best times will be over a cup of tea, or a shared meal, the local market shopping experience or as you walk through your neighborhood or village.
Remember your kids are experiencing a big learning curve as well. Take time to talk about their concerns, what excites them, what makes them nervous. Encourage them to talk about what's important to them; share scriptures that will help them recognize the Lord's sovereign power and keeping each of you in His loving care (see verse list below). Share your own experiences and feelings about inadequacy and fears as well. Make a list of strengths and weaknesses and pray through them for each other.
Soak in the truth of God's Word. Read and write down or memorize the Scriptures that speak to your own situation as God leads you. Here are a few to get your started:
Deuteronomy 31:6 "Be strong and courageous. Do not be afraid or terrified because of them, for the Lord your God goes with you; He will never leave you nor forsake you."
Psalm 46:10 "Be still and know that I AM God; I will be exalted among the nations, I will be exalted in the earth."
Psalm 56:3 "When I am afraid, I put my trust in You!"
Psalm 73:23 "Yet I am always with you; you hold me by my right hand."
Psalm 91 —The entire Psalm. A favorite is "For He shall give His angels charge over you, to keep you in all your ways."
Matthew 28: 19-20 "Therefore go and make disciples of all nations, baptizing them in the name of the Father and of the Son and of the Holy Spirit, and teaching them to obey everything I have commanded you. And surely, I am with you always, to the very end of the age."
Romans 8:26-27 "In the same way, the Spirit helps us in our weakness. We do not know what we ought to pray for, but the Spirit Himself intercedes for us through wordless groans. And He who searches our hearts knows the mind of the Sprit, because the Spirit intercedes for God's people in accordance with the will of God!"
Philippians 4:13 "I can do all things through Christ who gives me strength."
Reach out to a single or family to come alongside and show you the ropes. Ask them basic questions like:
Where should I do my shopping (if there are choices?!!)– or the proper way to cook/prepare a local food item.
What do you believe about life after death?
How do you dispose of garbage/waste?
What traditions do you have as a family?
Tell me about your family history?
Where do you connect or hang out with others in the community?
Where to you go for medical assistance?
Where do I find school supplies or toys for children?
Where do I find garden tools?
10) Are there things I should avoid or be sure to do when I am out and about in the community?
Often, when arriving to serve with others in a community, it is the others we serve with that may be the most challenging. Even though we have the same goals and purpose, we can have very different ways in mind to achieve them and/or our lifestyles and backgrounds prove to be very different. The evil one would like nothing better than to get us distracted by our differences and 'majoring on the minors' – we must resist this trap of our # 1 opposition. Remember, we are in a spiritual battle and the evil one will use all manner of evil against us – BUT we ARE OVERCOMERS through the Lord Jesus Christ!
Community is most important, so cultivate and enJOY even if you tend to be a loner or simply fearful of doing something the wrong way. We are not meant to be alone – we need each other to be Christ-like in a broken world. We are the Body of Christ here on earth to show forth His glory. So, we can be vulnerable, for in our weakness HE IS STRONG. In our confusion, HE IS ORDER. In our uncertainty, HE IS HOPE – a sure HOPE that brings freedom and LIFE to a thirsty soul!